This Texal Selfie Stick Tripod is lightweight so your trepidations, but you used it, those trepidations vanished! At full extension it held to your phone completely still for nearly an hour while took a video.
And the remote works great as well for stills, so that you're not shaking the phone trying to take stills. For the price, this one can't be beaten!
Pocket-Sized and Travel Friendly – Weighing 8.5 oz (less than most smartphones) and measuring 8″ when closed, this selfie stick is compact and lightweight enough to store and take with you anywhere you go. Pack it in your purse, backpack, or suitcase without making a dent.
Integrated Wireless Bluetooth Remote – This photography accessory conveniently includes an integrated rechargeable and detachable Bluetooth shutter remote that works up to 33 feet away.
The long-lasting battery can take up to 1,000+ photos and can be charged when needed using the included USB cable. (Remote zoom function is only compatible on Android.)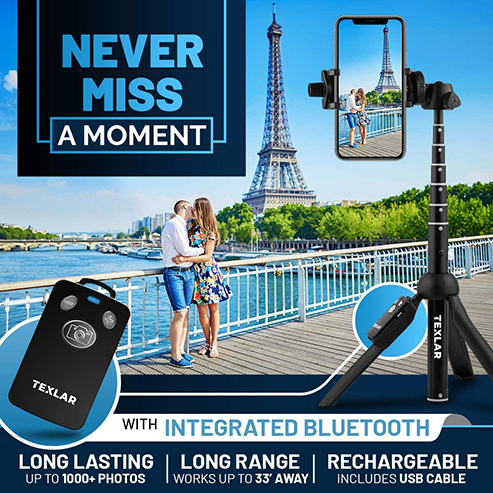 Compatible with iPhones, Androids, Samsung Galaxy, LG, Google Pixel, and Action Cameras – The included phone holder expands 2-4″ wide to securely fit any modern-day cell phone with or without a phone case.
Designed with a universally compatible 1/4-20 UNC bolt, you have the option to attach a phone holder, GoPro mount, or most lightweight cameras.
Package Contents
1x Selfie Stick Tripod, 1x Wireless Selfie Remote, 1x Manual, 1x Warranty Card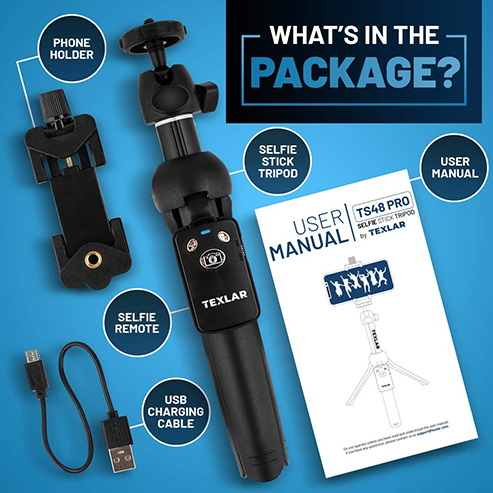 Two-In-One Selfie Stick and Tripod – The TS48 Pro features a fully expandable handheld selfie stick handle with built-in collapsible legs that allow it to double as a stand-alone tripod when opened.
The stick extends from 8″ to 48″, so you can capture a variety of angles that other selfie sticks cannot.

Tough and Reliable – Constructed with ABS and aluminum, a stable 360-degree handle, and rubberized non-skid feet, this selfie stick tripod has been built to last.
It can withstand all elements and environments, ranging from the city, rainforest, and everything in between.