How to Select Your YouTube Video Equipment Within a Budget
I'm pretty much convinced that I should start my own YouTube channel and get myself promoted right now, but, what equipment do I need to start my videos, where I will shoot my very first video and how? And how shall I get my YouTube channel promoted?
These are some of the questions which every person have when he/she wants to start his/her own YouTube channel, and obviously if you have questions then there must be great answers for that. Today I will tell you how you can start shooting your own videos for your YouTube channel within a budget.
What Idea I Should Chose for My Video
The very first question comes in your mind is what topic I should do my video on? that's logical, and the best answer for this question is that you should do videos on the topic you want people to know about, that could be about your passion, about your product which you are selling or your illustrations or graphic design elements you want to sell to teach people how to do that kind of great work, any services you are providing to the world and you want people to know about them etc.
Do Your Research
You can also search for different ideas for your very first video, on almost any topic, by visiting the google.com and just put in your topic you think you should have video on, and hit the search button. You will be amazed by the ideas you'll have. But keep in mind try to keep your idea as simple as possible and as well as practical, for example, if you have good knowledge about bikes, then you can tell people how they can get benefit from the bikes and where they can buy and what care required for the bike to keep it functional for a long period of time, otherwise you can also tell people how these bikes get manufactured and visit the nearest bike manufacturing factory and start shooting their whole process, but that would be too complicated, am I right?, so keep your ideas as simple as possible for your videos.
Which Equipment I need to Start Making My Videos?
There are lots of options for shooting and making videos in terms of equipment you need. So let's get started to discuss this step by step:
Which Camera is Best for Shooting YouTube Videos?
The best camera is the camera you have right now, yes, you are right, that's in your mobile phone. These days, there are plenty of options for the cameras in the market you can chose from. If you can afford a DSLR camera, then you must go for it. These days DSLR's are available in almost all price ranges. Some of the cameras which I personally recommend, within a decent price range, are below:
there are some very good options in this camera which you don't find in the cameras of similar budget. For example, the feature I like most in this camera is its articulating screen which is very useful while recording your videos, especially in odd angles. It has 24-megapixels resolution and can shoot high quality HD videos in 1080p resolution. It has a high ISO range which is good for shooting in low light conditions, although Nikon D7200
is far better than shooting in low light situations.
You can also use mobile phones for shooting videos, but your camera should be at least 13 megapixels or above to have a decent quality videos. You can use iPhone 11,
which in my opinion, should be the first choice for shooting videos because of its high quality lens and its capability of recording crisp 4K videos. There is another mobile phone which is famous for its high quality camera and that is Samsung S10
Plus which has a pro grade triple cameras for taking amazing pictures for your blog and also recording a high quality videos for your YouTube channel. You can use any decent camera or mobile phone to record your quality videos. When I say quality videos, I don't only mean to use high quality camera, which you can afford, but also a high quality sound as well. A well planned lights, good choreography, a little planning about your shot angles and good editing are also basic ingredients of high quality YouTube video which definitely influence your viewership and likes.
Let's talk about a microphone, because a quality sound is the essential ingredient of your video and it can ruin your impact if not delivered correctly.
Which Microphone I should Use While Recording My YouTube Videos?
This is the question comes in mind when you start recording your video. Is it necessary to use external microphone for video? And my answer to this question is Yes, yes if you can afford to have a good condenser microphone instead of using your DSLR's or your mobile's built-in microphone. Both options have significant quality difference and I personally recommend to use external microphones to get a far better quality than built-in mics. There are some good options to use external microphones like Blue Yeti
or RØde Pro.
Both are decent options for recording high quality sound for YouTube videos, either attaching with your camera or your desktop. After the sound, there comes a good lighting for YouTube video production.
Which Lights I should Use for My YouTube Videos?
There's a very important section of video production and that is how to lit your video. Using good lighting options can enhance your video beyond your expectations, but good lighting is a vast subject and there are experts for that particular subject. It would be very expensive to hire those lighting experts and professionals. So, what can I do to make acceptable or even near to professional lighting for my videos? The answer is, you should learn a bit about the basics of professional lighting before starting shooting your videos. You can learn about professional video lighting very easily these days by watching the video tutorials on YouTube or buying a professional dedicated course about video production.
You will learn a lot more by watching these tutorials and would be able to produce better videos than your competitors, colleagues or friends.
LED Video Lights
There are some good light options which you can buy within a budget. One of the best choice is LED Video Light Dimmable Bi-Color LED Panel
or you can use any of the lamps in your home to make a three light setup for your video production tasks if you don't want to spend any money on lighting. After lighting there comes a step of editing, so lets discuss the options we have for editing.
Which Editing Software I Should Use to Edit My YouTube Videos?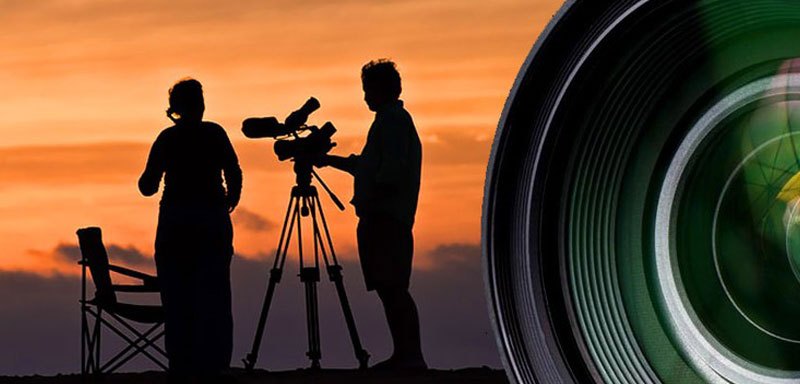 is a vast subject but you can learn it quickly these days. There are many video editing software options which you can use for the post editing of your videos. Some software are free and some are paid, now its your choice which option you go for according to your budget or need. I will tell you both options for editing software, free and paid, and their pros and cons.
The number one software is Adobe Premiere Pro which has excellent capabilities to edit your videos and even edit your sound.
But the lower side of Premiere Pro is that its expensive and don't have ability to record the screen, but its worth spending money on it.
The second good option is Camtasia,
which is an industry standard software for recording screens. Camtasia has also editing capabilities. You can bring your recorded footage in the Camtasia and can make professional tutorials,
blog or general professional quality videos within this software.
The third option is Filmora. Filmora is a good free option for editing your recorded videos and put some effects or titles on it. You can also purchase Filmora which comes with some extra features which Filmora free version don't have.
I hope you'll get benefit from the information I've given you in this article. So let's get started with your videos now!